Monitoring business performance on the basis of timely and accurate information is a key priority for decision-makers in the fast-moving distributive trades.
K8 Business Intelligence gives individuals or departments access to secure, centralised data at the precise level they need to perform their roles effectively.
This comprehensive monitoring and measurement software sits within the integrated K8 trading system, developed to meet the particular needs of wholesalers, distributors, merchants and retailers.
K8 gives you total control and visibility over your business, flexing to meet your company's individual requirements.
We've built this software to support the way you view and run your business.
The Key Performance Indicator reporting tools are designed to present performance against objectives for any branch or trading area, at any financial level, from the broadest sweep to the finest detail. You define access permissions to the Director, Finance and Manager Dashboards, which give different levels of information to your people, on the basis of what they need to know to make decisions.
So, whether it's a board-level review of operations across the organisation, an accountant's-eye view of actual versus budget figures, or a manager's update on sales, stock levels or supplier positions, the picture is clear. Whatever the individual user's preference, you can switch formats between tables and reports or smart graphical interpretations.
There's no better way to make sure you have the facts, accurate and up-to-the minute, before you evaluate the situation, consider the options and commit resources to action. So you know you are making intelligent decisions, based on sound business intelligence.
Manager Dashboard
Designed and structured to suit managers across the business, the Manager Dashboard is perfect for department, branch, area or regional managers, tailored according to their specific requirements and permissions. The presentations enable performance and comparisons to be made for fast and effective decision-making about sales, stock levels and supplier positions.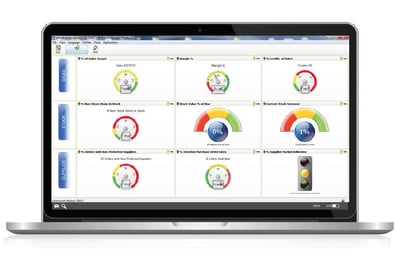 Sales and margins versus target, in total and for each product grouping
Customer Credits issued as a percentage of sales
Stock on hand expressed as a percentage of maximum stock
Non-stock items in stock, expressed as a percentage of overall stock
Stock turnover and predicted weeks cover
Finance Dashboard
Senior finance managers are offered high levels of control, data access and analytical capability. The Company Performance view presents at-a-glance comparisons of actual v. budget in areas such as sales, margin and cash flow. In the Debtors view, clear information about the accounts receivable position is presented, including cash collected and credit notes issued.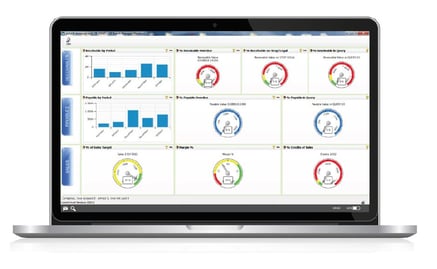 Receivables by period
Overdue debt and the value of debt attributable to customers on stop
Total of invoices under query
Payables by period and overdue
Sales and margins versus target
Director Dashboard
Directors and senior managers are presented with a holistic view of the business across multiple departments, and can drill down to the required level of detail. This dashboard provides top-level overview of operations and is easily switched to display sales, margin data, refund/credit information and warehouse stock positions.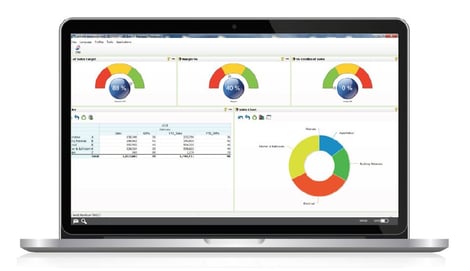 Sales and Margins versus targets
Outstanding orderbook position
Value of invoices awaiting margin review
Value of outstanding picks
Stock valuation and non-stock items 'in stock'
Whatever your aims are for the year ahead, Kerridge Commercial Systems' ERP software helps drive efficiencies, streamline processes and ultimately enables you to get more from your business. For more information, contact us today or request a demo.